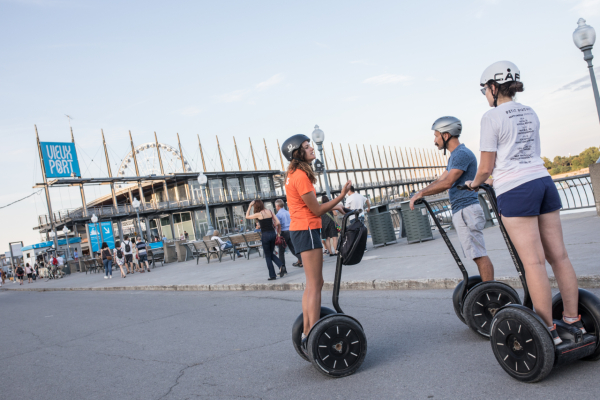 Discover one of Montreal's jewels in a different way! The Old Port of Montreal has a rich past and a
commented Segway tour
is a fun way to visit this mythical place! Montrealers and tourists alike enjoy driving these futuristic machines in such a beautiful and interesting place.
To join one of our three commented Segway tours,
we invite you to book on our website
.
New measures to counter COVID-19
In order to offer you a pleasant and safe experience, we have implemented new hygiene measures for the 2020 season. Thank you for helping us limit the spread of COVID-19!
Reservation on the website is mandatory for Segway tours.
Distancing rule in effect in the queue and during the tour if necessary.
Hand washing of all participants at the beginning and end of the activity.
Disinfection of the surfaces, by the employees, of the Segways and in the kiosk after each use.
Disinfection of helmets by staff after each use.
Contactless payment only.
Wearing of masks by employees and participants when the social distancing rule cannot be respected.
We wish you all a great summer in Quebec!
The Éco Tours Montréal team