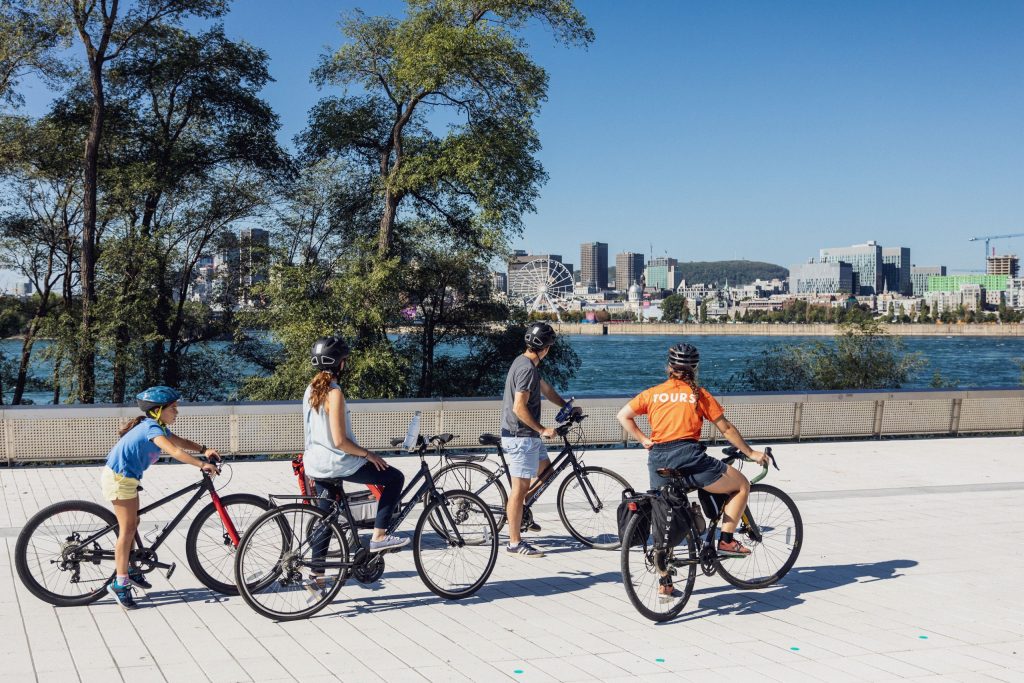 Discover this historic site and its many facets through our guided bike tour. This tour has been developed to appeal to both young families and outdoor enthusiasts who wish to combine adventure, discovery and a little history on different emblematic places of the park. Explore the wonderful Floralies Gardens, learn more about the impressive Biosphere and take a little relaxing break by the stream near the old gunpowder mill building. During this idyllic bike ride there will be around 7 informative stops and one snack break.
To reserve your place on the following bicycle guided tour at Parc Jean-Drapeau, please select the date of your choice from the calendar below.

If no calendar is displayed, there are no bicycle guided tours available at this time. Please contact us via the following online form to find out our next availability.
Commented tours of the lagoons
Aboard a kayak or a canoe, come and learn part of the history of Sainte-Hélène and Notre-Dame islands in an enchanting setting while sailing through the lagoons of Parc Jean-Drapeau in Montreal in one of our commented water tours.

Since 2018, Eco Tours Montreal offers commented kayak tours in the lagoons of Parc Jean-Drapeau in Montreal for the pleasure of locals and visitors alike. Probably one of Montreal's best-kept secrets, the lagoons of Parc Jean-Drapeau are a true oasis of tranquility.

Commented by a passionate expert, you will be fascinated during the tour on everything that surrounds you: a diversified flora and fauna, a breathtaking view of several emblematic Montreal landmarks, and the hidden side of the Expo 67 pavilion. With family or friends, moments of pleasure are guaranteed!
Go on a kayak or canoe tour
Experience a unique, memorable and fun experience aboard our Segways and discover an exciting way to explore Montreal from a different angle.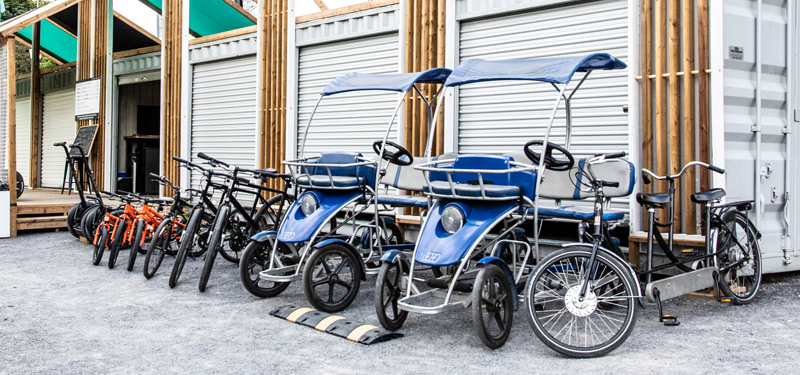 Éco Tours Montréal offers equipment rental at Jean-Drapeau Park. It is therefore possible to rent bicycles, tandems, quadricycles at our kiosk located at the exit of the Jean-Drapeau metro station. It is also possible to rent pedal boats, kayaks and canoes at our kiosk on Jean-Doré beach.
Conditions and Requirements
Participants to our guided tours must meet the following requirements:
The deposit of an identity document which will be given at the end of the activity.
Kayak/canoe: Minimum age of 12 with parental consent.
Wearing the life jacket mandatory and provided with the kayak/canoe tour. For the bike tour, wearing sports shoes is recommended.
Wearing a mandatory helmet and provided with the bike tour.
Booking
A reservation in advance on our website is strongly suggested to ensure availability of the segway on our various tours. Our departure times depend on the different guided tours. For more details on departure times, select one of the tours above to see availability.
Calendar
weekend and public holiday from 10:00 a.m. to 6:00 p.m.

Saturday and Sunday : 10 a.m. to 6 p.m.

every day from 10:00 a.m. to 6:00 p.m.

10:00 a.m. to 6:00 p.m.
Éco Tours Montréal brings you a futuristic experience with our cutting-edge segways. Come and try a new adventure that will delight your curiosity.
Contact
Espace 67
67 Chemin Macdonald
Montréal (Québec) H3C 6A3